Overview
In this guide, you will find a basic overview of the academic publishing process. This guide is intended for faculty members and/or students who are interested in publishing their own research. This guide is not a how-to for publishing in a particular field of study but, instead, is designed to give a broad overview of the scholarly publishing process, with a focus on the authors. It is also not a guide to research methods and design or writing. If you are interested in finding information on academic research and writing, in general, please see the following guides:
The Publication Lifecycle
Scholarly publication is frequently depicted as a lifecycle, detailing each step in the knowledge creation process. You can find these steps detailed below. How you approach each step within this process will largely depend on your role. We've designed this guide to follow the steps of the publication lifecycle and highlight the role of an author/researcher looking to get their own scholarly work published.
Creation - Research gets proposed, funded, and reported on.
Evaluation - Academic works are evaluated for quality and edited by their peers.
Publication - A publication provides editing, layout, and other publication services.
Dissemination and Access - Works are distributed, in print or online, through libraries, retailers, and the web.
Preservation - Copies or versions of the work may be saved for posterity.
Reuse - Works get read, cited, and and recombined.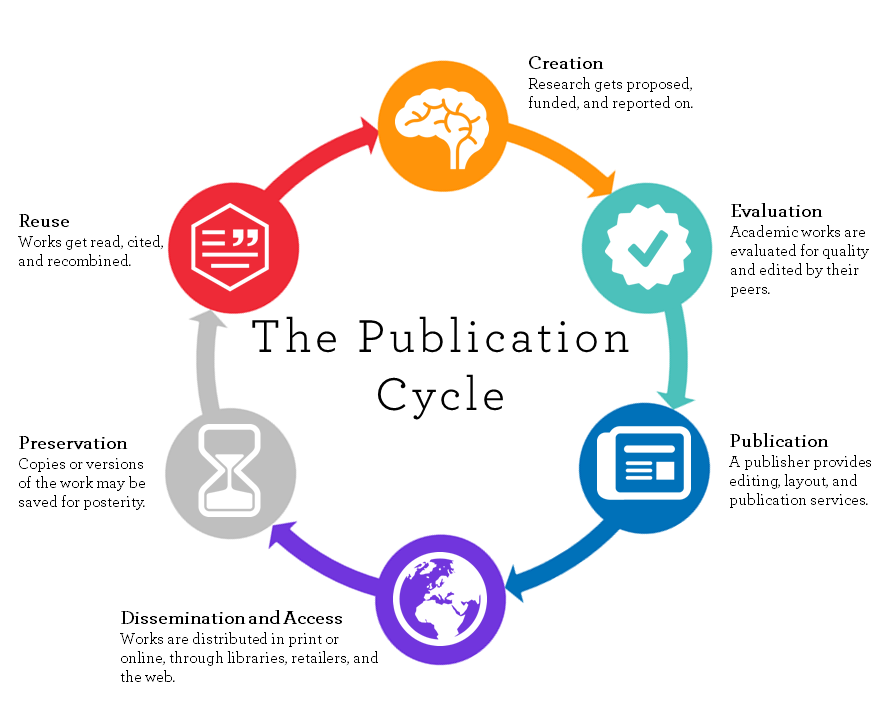 image courtesy of the University of Winnipeg Libraries